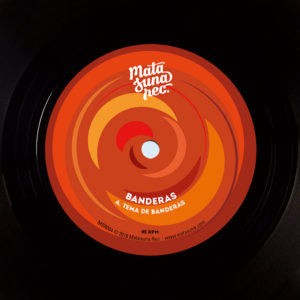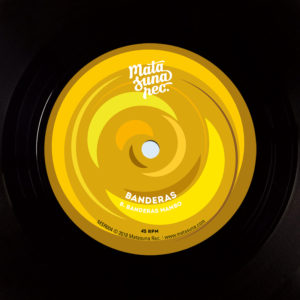 Label: Matasuna Records – MSR004
Title: Tema de Banderas
Artists: Banderas
Format: Vinyl, 7", 45rpm
Genre: Latin, Salsa, Boogaloo
Releasedate: 23rd March 2018
Reviews: here

A
Tema de Banderas 04:13

B
Banderas Mambo 03:57
Banderas – Tema de Banderas (MSR004)

Picture this: 11 musicians, dancers and dj join forces in 2014. Drawn together by their passion for and hypnotized with the infectious grooves of Salsa, Boogaloo, Afro, in short, the Latin fervor that runs in the veins of those who live with a positive flow in their body and minds. 11 funkateers that go by the name of Banderas. Waving their caliente strut. From Tokyo, Japan.
Matasuna Records is proud to continue its groove-ridden journey with its latest release, served on a must-have 7" platter with two incredible tracks from the Cuban fueled Japanese power combo Banderas led by Kazuma Koseki on piano and former Orquestra de la Luz member Dategen on congas, Naohito 'Temjin 'Yomoda from famed Mountain Mocha Kilimanjaro on wild, loud and fabulous trumpet and Izpon, known for his leading work in Kingdom Afrorocks and collaborations with Tony Allen.
Tema de Banderas is a stomping high speed and incredibly tight Latin barrage of salsa at its spicier! Crisp horn section, relentless percussion and impossible to stay still while listening to it, this is a sure shot tune for every dance floor, anytime, anywhere.
The flipside Banderas Mambo begins by letting you know that another high speed groove chase is ensuing, in a crescendo that immediately grabs you by the hips. A track filled with mouth-watering breaks for the dj and dancer alike, be prepared to be hit by the ritmo. The Banderas rhythm. Universal, proud and scorching hot, a release not to be missed or you just might miss this dance.
Reviews:
Banderas are that most rare of beasts: an eleven-piece salsa band from Japan. While they've been active for a while, their recorded output has been limited, to say the least. The two tracks featured on this tasty 7″ were first featured on the band's 2016 debut release, which was never released outside of Japan. It's undoubtedly great that they're finally available to a wider audience, because both are potent dancefloor workouts. With its atmospheric, "barrio atmosphere" opening, jaunty piano build-up, punchy horns, sing-along Cuban style vocals and scorching salsa rhythms, A-side "Tema De Banderas" is particularly effective. That said, bustling B-side "Banderas Mambo", with its heavier rhythms and rousing mambo horn lines, is also pretty darn hot. Juno Records
The stable of bands and necessary records gets bigger as another highly anticipated release from Matasuna Records is coming up. This time, it's from Tokyo, Japan, and the combo known as Banderas. Commanded by piano player Kazuma Koseki and former Orquestra de la Luz member Dategen on the congas, Naohito 'Temjin 'Yomoda from Mountain Mocha Kilimanjaro on the trumpet and Izpon, (Kingdom Afrorocks and collaborations with Tony Allen) on this Cuban injected, Latin obsessed double side of heat coming out on March 23rd. This looks to be one of the top latin records of the year so far. The A side, "Tema De Banderas" is that tune. So infectious, you will not be able to sit still, the whole sound is genuine. It's a combination of latin influences that run deep and it shows through this track. Cuban, booglaoo, afro sounds, and more shine through from the instruments to your turntable right to your ears. There is so much more though, let's not forget the B-side, "Banderas Mambo", leads the charge with an authentic side that brings us back to '60's Havana meets the '60's Bronx who produced a love child that learned percussion, horns, and deep rhythms from the first day it was born. Wild and triumphant, this one is for the dancers and latin lovers out there. There is no reason why you shouldn't play both of these sides in one night, they are that good. Don't believe us? Check out the teaser video. FleaMarketFunk
When I was growing up in the 70s/80s, I remember an episode of Blue Peter where for their annual expedition that year they went to Japan. What struck me the most in that episode was a park somewhere in Tokyo where on a Sunday groups of people went to indulge in their passion, there were punks, teddy boys and every sub culture you could imagine from the west and beyond. The attention to detail was incredible, and it's a theme that I've come to recognise in subsequent years. The Japanese (much like the British) are very very good at absorbing music from other countries and either respectfully copying or making their own. So here on the monster 45, we have a Japanese 11 piece Latin orchestra that sound 100% authentic. Phenomenal musicianship throughout with a line up that includes people that have worked with Tony Allen, Mountain Mocha Kilimanjaro and Orquestra de la Luz. To be succinct, this 45 is AMAZING, and if you like to drop Latin in your DJ sets, you totally need this. 45Live
Der allererste Tune der Newcomer ist eine klassische Salsa Dura mit dem Titel "Tema de Banderas": Mit messerscharfen Bläsern, halsbrecherischen Percussions und akzentfreien spanischen Texten. Eigentlich assoziieren wir diesen Sound automatisch mit Havanna oder Cali. Aber nicht mit Tokio, wo die 11 Instrumentalisten, Tänzer und DJs aber herkommen. Keine Latino-Einwanderer, sondern waschechte Japaner. Banderas heißt ja übersetzt Barrieren und die wollen die Jungs anscheinend einreißen. Das Besondere ist tatsächlich die musikalische Präzision und der authentische Groove. So als wären sie direkt in der Karibik geboren. Sie Single erscheint in zwei Wochen. Radio Cosmo
For part two of 'funky Latin stuff comes from the unlikeliest places night' it's time to introduce you to Matasuna Records' new find – Banderas and their new 7″ Tema De Banderas b/w Banderas Mambo. Eleven-strong, Banderas consist of musicians, dancers and a DJ and are bound by a love of salsa, boogaloo and mambo. Nothing unlikely about that of course. Until you find out they're from Tokyo. Yes, the Japanese Tokyo. Is there another one? And you're reminded of all those Japanese rockabilly and Japanese 70s-type punk bands (or any other non-Japanese pop music form) you've seen footage of who seem to have mainlined the essence of whatever music they're into to the extent that they keep it as real as those they emulate. Mind you, when they sound this good, I can't imagine there'll be any complaints. No official embeddable audio yet so it's all about YT and that live ish. monkeyboxing.com