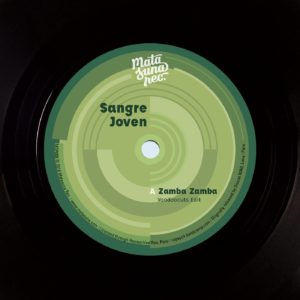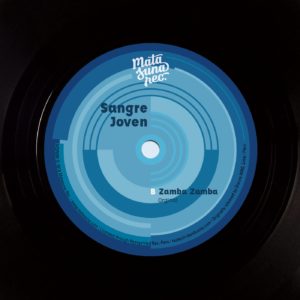 Label: Matasuna Records – MSR006
Title: Zamba Zamba
Artists: Sangre Joven
Format: Vinyl, 7", 45rpm
Genre: Afro-Latin
Releasedate: 7th September 2018
Reviews: here

A
Zamba Zamba (Voodoocuts Edit) 04:25

B
Zamba Zamba (Original) 04:24
Sangre Joven – Zamba Zamba (MSR006)

First ever official reissue of Zamba Zamba by Peruvian band Sangre Joven! Originally released in 1975 by MAG (Lima | Peru) the 7inch vinyl is hardly available and a rare latin gem. Any information about Sangre Joven is just as rare as the vinyl: there is in fact nothing about the band to be found on the internet.
Nevertheless, with a little help by a peruvian friend we got some details: "Zamba Zamba" is a peruvian version of the track "Samba Samba" by Colombian brothers Elkin & Nelson, who moved to Spain in the 70s. The band Sangre Joven consists of musicians from the famous Peruvian group Nil's Jazz Ensemble of jazz musician, composer and arranger Nilo Espinosa. When their musical  direction changed, they switched their name to Sangre Joven and released a funky & discoid album and one single on the Peruvian label MAG in 1975. Both original pressings are very difficult to find nowadays, so we're more than happy to release this on Matasuna Records! The track was restored from the reel to reel master tapes and also got a new mastering by Carvery (London).
In addition to the original Zamba Zamba version, the DJ & producer Voodoocuts contributed a superb edit to this 7inch and both tracks spread a sunny Afro-Latin vibe that catches you immediately. While the original is perfect for a relaxed set on the beach, the Voodoocuts' Edit is a real killer tune for the dancefloor. The funky acoustic guitar perfectly harmonized with the electric piano and the super sweet vocals on the percussive breaks will really heat you up! As always: a seven inch not to be missed!
Reviews:
Getting hold of an original 1975 vinyl 7″ of Zamba Zamba by Sangre Joven (a.k.a. their cover of Elkin & Nelson's Samba Samba) has hitherto been something of a mission. As indeed has been finding out anything about this Peruvian outfit who, hitherto, have registered a big fat zero on interweb searches. Matasuna Records are not a label to be put off by the effort though – especially when they've got a re-issue in mind and a bit of help from a Peruvian friend. No not the powdery kind! An actual Peruvian friend. Which is why you will shortly be able to avail yourself of a copy of this hard-to-find Afro-Latin dancefoor funk cut once again on 45. And they've not only restored the track from the reel-to-reel master tapes but also got The Carvery in London to sort out a new master. It only remains to sort out the flip. Let me see now – perhaps a Voodoocuts edit, yeah, with even more dancefloor oomph? Yep – that should do it! monkeyboxing.com
Sangre Joven were a Peruvian band operating mainly throughout the 70s and, along with plenty of their own original material, the outfit also worked on versions of American funk classics, such as this reinterpretation, from 1975, of Elkin & Nelson's "Samba Samba". "Zamba Zamba" adds more flavor and percussion to the already tropical groove, making it an ansolutely addictive rhythm to own and play out on the dancefloor! The Matasuna imprint have gone above and beyond with this reissue, however, as Voodoocuts gets an edit in – it becomes more dance-centric and beat-heavy compared to the original cut. A quintessentially unmissable funk belter! juno.co.uk
Nilo Espinosa was a musician, composer and arranger and is considered one of the most important jazz artists of Peru. In the 1970's, he led a group of like-minded musicians called Sangre Joven. The band is now largely forgotten and information on them is rare. However, Matasuna Records discovered a true Latin jazz gem in the funky song "Zamba Zamba." Originally released on one single Peruvian label named MAG in 1975, the song was a version of "Samba Samba" by Colombian brothers Elkin & Nelson and has been reissued by Matasuna for the first time ever. jazziz.com