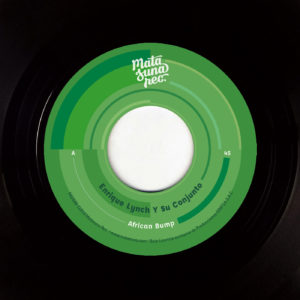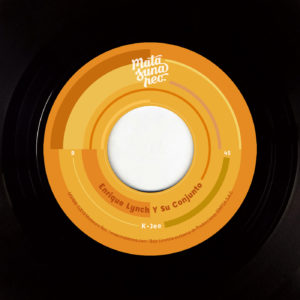 Label: Matasuna Records – MSR008
Title: African Bump | K-Jee
Artists: Enrique Lynch Y Su Conjunto
Format: Vinyl, 7", 45rpm
Genre: Afro, Latin, Disco, Funk
Releasedate: 07th December 2018
Reviews: here
A
African Bump 03:15
B
K-Jee 02:36
Enrique Lynch Y Su Conjunto – African Bump | K-Jee (MSR008)
Matasuna Records has once again unearthed two Latin gems for its latest release: two rare tracks by Argentina-born musician Enrique Lynch. Lynch moved from Argentina to Peru in the 1960s and became artistic director and producer of the Sono Radio label. He released an astonishing amount of albums with his various bands over the span of nearly three decades.
The two songs will be available together on a vinyl single for the first time – and the track from the flipside will also be released on a 7inch for the first time. For this official reissue Matasuna was lucky enough to have access to the original master tapes. The tracks were carefully restored and remastered in Lima (Peru).
African Bump is one of Enrique Lynch's greatest tracks and the original 7inch is much sought after by collectors and DJs alike. The song immediately captivates the listener as the Wah Wah guitar begins to play and enters into perfect harmony with organ and brass. A thrilling disco funk beat, rhythmic percussion elements and a hypnotic hookline spice up the track and show what great musical treasures South America has to offer.
On the flipside there's a great cover version of the Soul and Funk anthem K-Jee by American band The Nite-Liters, which had a hit with this song in 1971 and even entered the billboard charts. Enrique's version adds some extra grooves with killer beats and breaks, a heavy bassline and wild percussion parts. A distinctive horn section meets funky guitar riffs and deep organ sounds. A fantastic funk tune that will set any dance floor on fire!
Reviews:
As the year is winding down, we are getting some terrific forty fives from all over the world. Some, no doubt will make our year's end lists. We're happy that a record like this has been officially reissued to the masses. Matasuna Records out of Berlin drops two sides of heavy latin heat from Enrique Lynch Y Su Conjunto. These two rare tracks from the Argentinian born but Peruvian raised maestro are spot on. Taken from restored master tapes in Peru, it'svailable on a forty five for the first time. We get possibly Lynch's best track ever in "African Bump" on the A. Tons of Wah Wah guitar, harmonies, organ heat and brass licks, this disco funk thriller will perk up any party. It's a stone cold classic, available and remastered for those looking to score (a dope record that is). The flip is a cover of a funky classic originally done by The Nite-Liters. "K-Jee" was funky on its own, but now a latin disco funk party with a deep bassline, breaks, some funk-kay guitars, and a horn section that kicks ass. If you like the original version, you'll love how Lynch and company take it higher. When the organ kicks in, watch out, it's a party. This bad boy is available on December 7th and will be featured exclusively on vinyl. A bonus, because it deserves to be in your box. fleamarketfunk.com
Continuing their services to obscure Afro-Latin funk, Matasuna Records comes correct with yet another official reissue 45, this time showcasing a brace of cuts by Enrique Lynch – or rather Enrique Lynch Y Su Conjunto. The A-side is African Bump, an organic sounding slice of funky disco with an Afro-Latin vibe pursuing a horns-led and multi-layered percussive path through the sweaty confines of the dancefloor. Meanwhile, over on the flip you get Lynch's cover of The Nite Liters' K-Jee, on which he retains the American original's energy whilst giving it a totally tropical makeover. monkeyboxing.com
For their latest release, Matasuna Records has put away their re-editing scalpel and instead decided to serve up two obscure old gems by Peru-based Argentine artist Enrique Lynch. Both tracks were recorded in the early 1970s and have become sought-after items amongst the Afro-Tropical collecting community. Having been re-mastered from the original master tapes, A-side "African Bump" – a jazzy, sun-soaked affair notable for its fantastic use of wah-wah guitar, Blaxploitation grooves and high-register horn solos – sounds better than ever before. The same could be said for Lynch's brilliant cover of The Nite-Liters' funk classic "K-Jee", which adds a little South American sunshine to the familiar grooves and celebrated horn lines. juno.co.uk