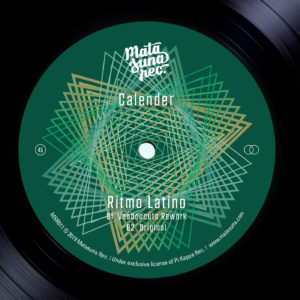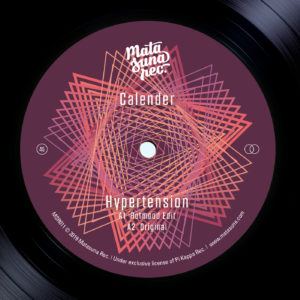 Label: Matasuna Records – MSR011
Title: Hypertension | Ritmo Latino
Artists: Calender
Format: Vinyl, 12", 45rpm
Genre: Disco, Funk, Latin
Releasedate: 29th March 2019
Reviews: here


 

A
Hypertension (Hotmood Edit) 6:05
Hypertension (Original) 05:50

B
Ritmo Latino (Voodoocuts Rework) 05:51
Ritmo Latino (Original) 05:12
Matasuna Records presents another treat with its latest release: an official reissue with two songs of the US funk band "Calender". Both tracks are available on a 12" Maxi-Single for the first time. In addition to the mastered original versions, this EP features great reworks by two of our favorite producers: Mexican disco edit king "Hotmood" and the highly acclaimed Matasuna artist "Voodoocuts".

The band "Calender" from New Jersey was founded in the 70s by Paul Kyser. Besides his activities as songwriter, arranger and producer he set up his label Pi Kappa Records. The band's only album "It's a Monster" was released on this label in 1976 and has grown into a legendary status over the years and is appreciated by fans and collectors alike.

The opener "Hypertension" is a disco banger par excellence. Kyser's sophisticated arrangements merge thrilling grooves, elegant strings, varied funk elements and soulful vocals to a great and unique joint for every dancefloor. It's very pleasing that the song doesn't get overloaded or cheesy, as it's often the case in disco music.
Hotmood transfers the track, which was created more than 3 decades ago, into the present time. His great disco edit focuses on the instrumental parts of the original. Thanks to his clever arrangement, a tension curve is constantly built up without seeming repetitive.

On the flipside, "Ritmo Latino" takes a different musical direction. As the name suggests, there are all kinds of Latin American influences to be heard: the brass section, rhythm parts, piano sounds and the grooving bass line, which goes straight into the veins. Nevertheless, the song is also strongly rooted in funk & jazz and inspires its listeners with its unique character.
Voodoocuts rework comes up with a monster broken beat and gives the song a dancefloor friendly structure with its new arrangement. Especially the killer break part in the middle of the song will not only make B-Boy hearts beat faster! Additional instruments, samples and effects give the rework an individual and autark touch and prove once again impressively that Voodoocuts is setting the bar higher and higher with his productions.