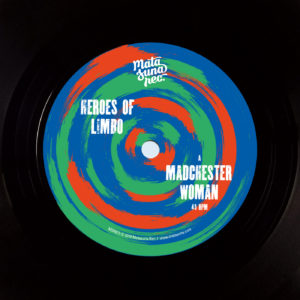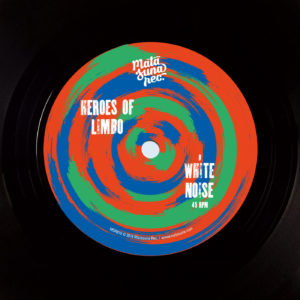 Label: Matasuna Records – MSR015
Title: Madchester Woman
Artists: Heroes Of Limbo
Format: Vinyl, 7", 45rpm
Genre: Afrobeat
Releasedate: 29th November 2019 Reviews: tba

 

A Madchester Woman 04:42

B White Noise 04:44
Heroes Of Limbo –  Madchester Woman (MSR015)


With its latest release Matasuna Records continues to explore contemporary Afrobeat from different countries. After the last trip to the Swiss Mittelland, this time the journey goes across the English Channel to discover more new & authentic Afrobeat and serve it on a tasty vinyl single.
Heroes of Limbo is a new studio project from long-time collaborators, producer and multi-instrumentalist Glenn Fallows (The Impellers, Disposable Breaks, Andres y Xavi) and trombonist/arranger Gram 'Canyon' Treldavs. Reimagining classic and contemporary pop as authentic 70's Afrobeat and Highlife from Nigeria and Ghana, this first release asks you to fire up your time machine in your mind and wonder what would the Happy Mondays sound like if they'd played at Fela Kuti's Afrika Shrine, rather than Manchester's legendary Hacienda Club? What if Disclosure were not a Mercury Prize-nominated electronica duo, but a Highlife Orchestra based in Accra, Ghana?
Madchester Woman takes Ebo Taylor's African Woman and uses it as a chassis for a cut 'n shut reworking of Happy Mondays' 1990 classic 'Loose Fit' – a hot and explosive mixture as you can easily hear!
White Noise, featuring vocals from Clair Fallows (The Impellers, Soul Grenades), re-works Disclosure & Aluna George's electro-house anthem into an uplifting slice of afro-disco dancefloor shuffle.