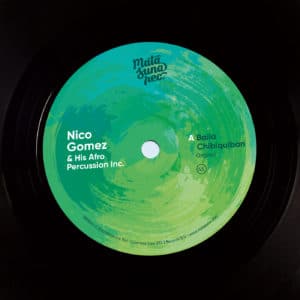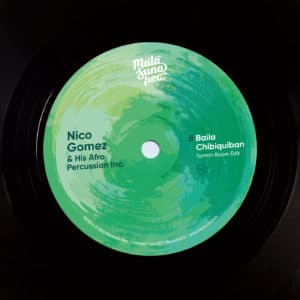 Label: Matasuna Records – MSR019
Title: Baila Chibiquiban
Artists: Nico Gomez And His Afro Percussion Inc.
Format: Vinyl, 7", 45rpm
Genre: Latin
Releasedate: 22nd May 2020
Reviews: tba
A Baila Chibiquiban (Original) 03:05

B Baila Chibiquiban (Tonton Boom Edit)  04:20
 Nico Gomez And His Afro Percussion Inc. – Baila Chibiquiban (MSR019)
After the successful "Lupita" 7inch in April 2020, Matasuna is delighted to reissue another Latin gem from "Nico Gomez And His Afro Percussion Inc.". "Baila Chibiquiban" is also a killer cut, which is now finally available again on 7″ single. The original version is complemented by a great edit by Frenchman "Tonton Boom" (aka "Mr. Boom"), who had already attracted attention as a digital promo some time ago. For this official release, his version got a new analog mix at "Microgroove Studio" in Toulouse to sound better than ever. Another essential 7inch for every record collection.

"Joseph Van Het Groenewoud", who would later become known as "Nico Gomez", was a musician & composer from the Netherlands. He spent his youth in the Antilles, Cuba and other islands of the Caribbean, which had an unmistakable influence on his music. As a passionate musician and skilled guitarist he was familiar with the typical rhythms and melodies of this region. Later he returned to the Netherlands, before fleeing from there to Belgium in 1946 to escape from serving in the Dutch army in Indonesia. From then on he called himself "Nico Ooms". It's said that he was so obsessed with Cuban music that he changed his name to "Nico Gomez" – in any case, the name fit better with the Latin American music he brought to the stage. He had made a name for himself as a composer and arranger for various artists and orchestras – e.g. he wrote for "Los Chakachas", a well-known Belgian Latinsoul combo. But he also conducted the "Nico Gomez Orchestra".

One of the most sought-after recordings was the 1971 album "Ritual" by his band "Nico Gomez And His Afro Percussion Inc.". It is considered one of the best Afrolatin albums of the 1970s – especially once this masterpiece was (re)discovered by Djs and its popularity soared. The album is a tasty mixture of Latinfunk grooves, deep Afrosoul and Chicano rock influences like fuzzy guitar and heavy organ.

The original version Baila Chibiquiban on the A-side is a killer latin psych funk tune written by Nico Gomez. A distinctive bassline, fuzz guitar, deep rhodes, tons of breaks and soulful vocals make a funk monster that burns everything down.

Mr. Boom's version on the B-side takes the original even further, to underline this not only on the percussive side. His new arrangement continuously heads towards the climax, which is interrupted by a break to create new tension. Already successfully tested, this edit – which was longed for by many on 7inch – will get a permanent place in record bags and make dancefloors explode.