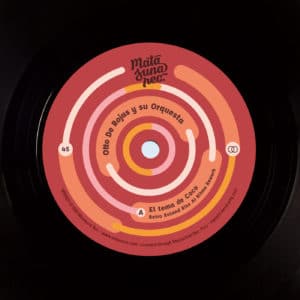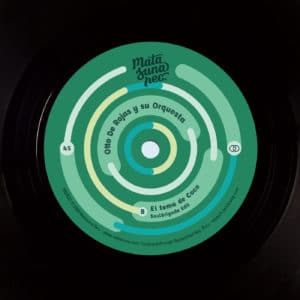 Label: Matasuna Records – MSR021
Title: El tema de Coco
Artists: Otto de Rojas y su Orquesta
Format: Vinyl, 7", 45rpm
Genre: Latin, Discofunk
Releasedate: 14th August 2020
Reviews: tba
A El tema de Coco (Retro Roland Riso Al      Ritmo Rework) 03:50

B El tema de Coco (SoulBrigada Edit)            04:06
More than two years ago Matasuna Records already reissued two songs of the gifted Peruvian piano master Otto de Rojas on a 7inch single. El tema de Coco is another great track on his 1976 album Superéxitos Bailables, on which he mixed Latin with Funk, Jazz and Disco. The song was reworked by Retro Roland Riso, known for his Bossa 70 edits and by Matasuna label founder Alex SoulBrigada, who now deliver two different versions of this tune for the dancefloor.
Otto Raúl de Rojas Guedes (1941-2008) was a Peruvian musician, composer, arranger, musical director of radio and television broadcasts. He's considered one of the most influential figures in Peruvian music of the 70s. The musical landscape of Peru, especially in the musical epicentre Lima, was influenced in the 1960s by US Funk, Soul or even psychedelic Rock and merged it with Peruvian Cumbia and traditional Criolla music.
The young & unknown "Otto de Rojas" started his musical career in this environment and played in various bands like Bossa 70 and Los Hilton's. A commercial breakthrough in his career came in the early 70s when he took over the musical direction of the TV show Trampolín a la fama and made a name for himself with his talent as an arranger. He was also active as an arranger and musician for the Peruvian record company MAG, and as a versatile and talented pianist he has participated in various recordings of different popular rock groups like Los York's, Traffic Sound and others.
Otto released his first successful solo project at the age of 25 in 1976. His songs Al Ritmo Del Bump-Bump, a cover version of the US hit Soulful Strut by Young-Holt Unlimited, and the song Choca Las Caderas are considered one of his greatest successes and represent for many the best songs of Otto de Rojas. In the following years he recorded more albums and was often to be found on the stages of Lima.
In 2008 Otto de Rojas died tragically and much too early. With him, the Peruvian music world lost an unsung icon. However, his music will live on and keep the memory of this exceptional talent alive.
Roland Retro Riso's Al-Ritmo Rework on the A-side puts an impressive percussive rhythm layer over the original and makes it to an inimitable funky groover for the dance floor.
The SoulBigada Edit on the B-side transforms the song into a deep disco-funk banger, focusing on the deep rolling bassline, funky wah-wah guitars, brass and the virtuoso piano playing of Otto de Rojas, giving the song the necessary pressure.