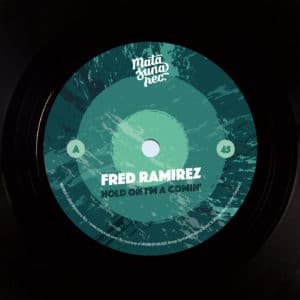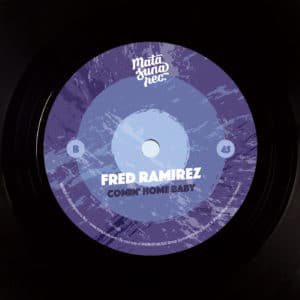 Label: Matasuna Records – MSR024
Title: Hold On I'm A Comin'
Artists: Fred Ramirez
Format: Vinyl, 7", 45rpm
Genre: Latin, Jazz, Funk
Releasedate: 11th  December 2020
Reviews: tba
A Hold On I'm A Comin' 02:30

B Comin' Home Baby 03:15
For its latest release, Matasuna Records goes back to Latin-influenced realms and presents two songs by US musician Fred Ramirez, which are available for the first time as official reissue on 7inch vinyl. These are instrumental cover versions of well-known soul and jazz hits, which take a completely new direction under Fred Ramirez' killer Latin jazz-funk influence. The songs were transferred from the master tapes and got a new mastering to sound as good as never before.
Born in Los Angeles, Fred Ramirez began his classical piano training at the age of six. At the age of 16 he bought a Musser Vibraphone and taught himself how to play by listening to the likes of Cal Tjader, Tito Puente and Milt Jackson. He started playing in nightclubs and his talent as a young pianist & vibraphonist quickly spread throughout the L.A. jazz scene. In the 60s and 70s he played in various bands and was on many tours across the states. In his extensive career he has worked with many greats of jazz and Latin America. With his own Latin jazz ensemble he was a welcome guest at numerous festivals and jazz clubs until the beginning of the new century.
In 1967 Fred released two singles with cover versions of well-known soul & jazz songs on Warner Bros. records, on which his unmistakable and extraordinary piano style and talent is evident. He was also a member of the nine-piece band Macondo, which was signed directly in the recording studio by "Ahmet Ertegün", one of the founders of Atlantic Records. In the same year 1972 the LP was released on Atlantic.
In 1995, he released an album on CD with a multi-piece orchestra entitled 'A Tribute to Legends of Latin Jazz' as a homage to to musicians who had an influence on him. A live CD followed in 2002, which was recorded at the Steamers Jazz Club (California).
"Hold On I'm A Comin" on side A is a cover version of the 1966 soul hit by the duo Sam & Dave, written by Isaac Hayes and David Porter. A killer drum break and a deep bass line is the basis for Ramirez' virtuoso piano playing, which is complemented by brass and drums. Ramirez thus creates an independent, extraordinary Latin jazz version that is in no way inferior to the original and is brilliant due to its musical expansion and independence.
Side B contains another exceptional cover version of the instrumental jazz song "Comin' Home Baby" written in 1961 by Ben Tucker and Robert Dorough, which became a jazz hit in 1962 with the vocal version of Mel Tormé. Ramirez' cover radiates a very special vibe through his sheer piano playing, which is especially evident in the twist in the middle of the song, where it increases in intensity and creates a lot of pressure and dynamics. Outstanding!