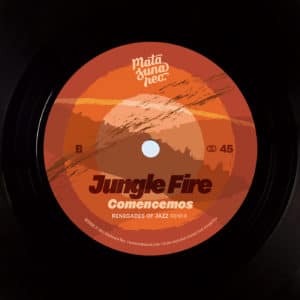 Label: Matasuna Records – MSR025
Title: Renegades Of Jazz Remixes
Artists: Brownout | Jungle Fire
Format: Vinyl, 7", 45rpm
Genre: Afro- | Latin-Funk
Releasedate: 5th February 2021
Reviews: tba
A Brownout – Flaximus (Renegeades Of
Jazz Bboy Edit) 03:40

B Jungle Fire – Comencemos (Renegades
Of Jazz Remix) 04:24
Matasuna Records kicks off 2021 with another 7inch. This record features two remixes by German DJ and producer David Hanke aka Renegades Of Jazz, for Afro-latin Funk bands Brownout and Jungle Fire. Brownout's remix was first released in 2013 via Paris DJs on a very limited run of 45s and quickly became very sought after. By painstakingly cutting every instrument's individual notes, increasing the tempo and adding in a punchy breakbeat at the end, David turned Flaximus into an up-tempo dancefloor hit.
Jungle Fire's song Comencemos that appears on the B side is a cover version of Fela Ransome-Kuti's song "Let's Start". David added some more Afrofunk elements to the Jungle Fire version and builds a bridge to the original Fela version with the additional elements. The Jungle Fire remix is previously unreleased and will be available on vinyl for the first time.
David Hanke has been linked to Matasuna Records since our early days, when he released his Dem Juju Poets debut album on Matasuna in 2017. Most recently he delivered a dancefloor-friendly edit of Mawuli Decker's "Mololi-Lomko" at the end of 2020, again released on Matasuna. David is constantly producing and surprises regularly with new musical projects, restlessly trying to develop and refine his sound. With his new label, Bathurst, he created a home for all his electronic music projects. Bathurst follows the notion of not focusing on any formats or genres, but caring more about the electronic music Hanke adores.
Nine-piece band Brownout from Austin/Texas, was formed in 2005 by members of the Grammy Award-winning Latin orchestra Grupo Fantasma and have since become a musical force of their own. In addition to three Austin Music Awards, the band has performed at countless events and festivals and has regularly toured the U.S. also as highly sought-after backing band for artists like Prince, GZA and many more. Their albums and singles have been released on labels like Freestyle Records, Ubiquity or Fat Beats.
Jungle Fire is an Afrolatin Funk band from Los Angeles known for their authentic and highly explosive sound. They quickly gained attention of the local Los Angeles scene and beyond, which led to their first release on the Funk and Soul label Colemine. Other releases have been released on Nacional Records, Paris DJs and Razor N Tape. Their second album "Jambú" debuted at #4 on the Billboard Latin charts in February 2017 which led to numerous features in several movies, commercials and TV shows. They create a unique Afro-Tropical sound by combining West African rhythms with heavy funk elements.