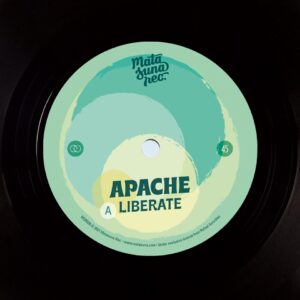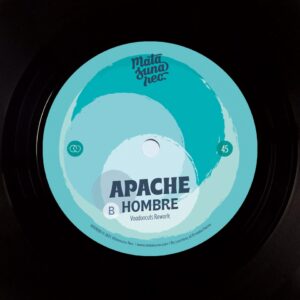 Label: Matasuna Records – MSR026
Title: Liberate | Hombre
Artists: Apache
Format: Vinyl, 7", 45rpm
Genre: Latin-Funk/-Soul
Releasedate: 12th March 2021
Reviews: tba
A Apache – Liberate (Original) 02:40

B Apache – Hombre (Voodoocuts 
    Rework) 04:00
Matasuna Records is delighted to make a musical detour to Mexico for the first time with its new release. The 7inch contains two rare Latinfunk & -Soul songs of Mexican band Apache. The songs Liberate and Hombre were released in 1975 & 1976 and are now available on vinyl again for the first time ever. This time Matasuna companion Voodoocuts is back again to contribute a formidable rework of Hombre.
Members of the band La Fórmula ER77 formed Apache in the early 70s in Torreón, Mexico. The 8-piece band performed on many stages, but became known to a larger audience through an appearance on the popular Mexican TV show Siempre en Domingo. Another success was their song Kung Fu Chino, which was popular throughout Latin America.
In 1976, their first LP Del Bumpin Al Hustle was released, which contains, with one exception, only cover versions of international hits from that time. Although the originals were popular music, Apache adopted them with their own funky attitude.
At the end of the decade, the original group disbanded. Two members joined with other musicians in the early 80s to pursue a different musical direction under the new band name Tropicalisimo Apache, which is still active today.
Liberate is a song composed by Rafaél Gonzáles, who was also responsible for the production of the LP. The song is the only original composition on the album and differs stylistically from the other songs not only because of that: Liberate is a heavy Latin funk joint par excellence that leaves you wanting more!
On the flip side, you won't be disappointed: Hombre is another great song composed and arranged by the band's trumpet player, Ernesto Haros. Voodoocuts Rework strips down the original to its instrumental base to skillfully build a new arrangement, which is enriched by additional samples, a bunch of beats and breaks and various effects. Without a doubt another tropical dancefloor treat!