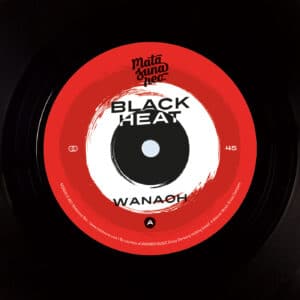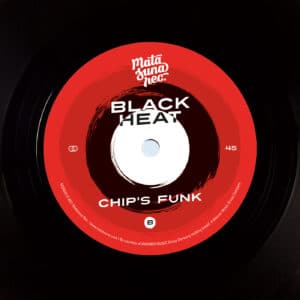 Label: Matasuna Records – MSR029
Title: Wanaoh | Chip's Funk
Artists: Black Heat
Format: Vinyl, 7", 45rpm
Genre: Funk
Releasedate: July 2nd 2021
Reviews: tba
A Wanaoh 03:49

B Mi Moooto 03:28
Matasuna Records has dug into the archives of Atlantic Records and unearthed two funky treats from the band Black Heat. The funk & soul band was active in the 1970s and remained under the radar despite their talent. Both songs from their 1972 debut album are available for the first time as an official reissue on 7inch – the song Wanaoh even premieres on a vinyl single.
Wanaoh on the A-side is a monster funk joint written by the band's guitarist Bradley Ownes. The song features a top notch mix with all kinds of delicious ingredients: a killer bassline, funky guitar riffs, crunchy drums, deep organ, tasty horns and a super funky flute. Absolutely astonishing that this song didn't go down in the annals of funk.
Chip's Funk on the B-side penned by bassist Naamon Jones also continues in the same vein and is an absolutely great tune which succinctly showcases Raymond Green's harmonica. The band's name couldn't apply better to this song either: Black Heat is exactly what the musicians deliver here.
Artist info
King Raymond Green was born in 1951 to African American and Puerto Rican parents in San German, Puerto Rico. Green, a percussionist and vocalist, formed the eight-piece funk & soul band Black Heat in the early 1970s. They signed to Atlantic Records and released three LPs between 1972 and 1975. Despite a high level of talent and creativity, they never achieved a great degree of popularity or commercial success like other bands from that time. Only their funky midtempo song No Time To Burn was a moderate hit. The band broke up in the late 70s. In August 2008, members of the band reunited for the first time in over 3 decades to play together on one stage at a memorial concert in NYC for Joel Dorn, their original producer at Atlantic Records.
Black Heat is another example of a band with talented musicians who never managed to gain a foothold in the mainstream, but are highly regarded by connoisseurs. Their music was also influential in hip hop – their songs have been sampled many times by the likes of Wu Tang Clan, Notorious B.I.G., DJ Premier etc., proving their influence on subsequent generations.
King Raymond was rooted in music throughout his complete life. By studying audio engineering he was able to establish himself as a first class sound engineer and worked with many R&B greats like Chuck Brown & The Soul Searchers, Dr. John or Carlos Santana. In the 90's he joined the band The Flamingos as lead singer, until he changed to the legendary R&B group The Clovers in 1999, where he also worked as lead singer. Green was also a songwriter & producer in Washington, DC. King Raymond Green passed away in 2017.