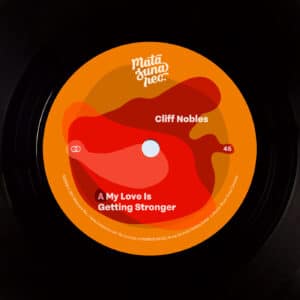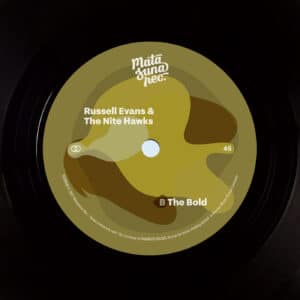 Label: Matasuna Records – MSR030
Title: My Love Is Getting Stronger | The Bold
Artists: Cliff Nobles | Russell Evans & The Nite Hawks
Format: Vinyl, 7", 45rpm
Genre: Northern Soul | Mod Jazz
Releasedate: September 17th 2021
Reviews: tba
A My Love Is Getting Stronger 02:50

B The Bold 02:24


With their latest release, Matasuna Records brings together two songs from 1966 that were originally released on J-V/Atlantic Records & ATCO Records. Now officially reissued for the first time on 7inch vinyl. Aside from the same release year, the two songs – a Northern Soul joint by Cliff Nobles and a Mod Jazz tune by Russell Evans & The Nite Hawks – seem to have little in common. However, both are delicacies for any dance floor and combine an irrepressible energy. The two songs thus fit perfectly together on this hot & fiery 45!

My Love Is Getting Stronger by Cliff Nobles on the A-side is not only a super rare soul gem whose original single cost at least $700 dollars. The song can also be considered one of the best (Northern) soul tunes. A grooving bass, infectious drums & bongos meet great orchestrated horns driven by Nobles' raw yet sweet voice. A smokin' soul cut for any dance floor.
The instrumental The Bold by Russell Evans & The Nite Hawks on the B-side brings out the same irrepressible energy. The deep bassline, drumbreaks and funky guitar riffs introduce this terrific song. A deep organ joins in perfect interplay and enchants the listener. A great groover that shouldn't leave any record box!
Artist info
Cliff Nobles, born in 1944 in Groove Hill (Alabama) got into singing in his high school choir in Mobile (Alabama). He also became the lead singer of a popular local group called The Delroys. After school, he moved to Philadelphia to work on his career. He recorded 3 songs for Atlantic Records, which went unnoticed. He later formed the band Cliff Nobles & Co in Norristown with Benny Williams (bass), Bobby Tucker (lead guitar) and Tommy Soul (drums).

Through demo tapes, Nobles came to the attention of producer Jesse James, who began to write songs for the band and helped them get a contract with Phil L.A. Of Soul Records. The first release bombed, but the second single, Love Is All Right/The Horse, brought success. Ironically, the instrumental B-side The Horse, which Nobles didn't even perform on, became a huge hit. It reached #2 on the charts, sold over 1 million copies and was awarded a gold record by the R.I.A.A.

However, subsequent releases failed to match his success, and he retired from the music business in the early 1970s. Nobles died in October 2008 at the age of 67 in Norristown, Pennsylvania.