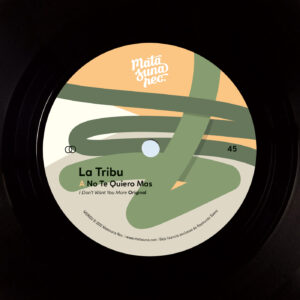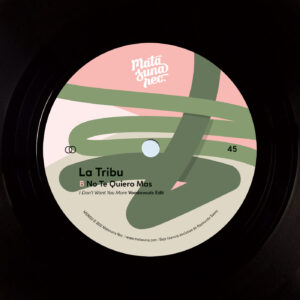 Label: Matasuna Records – MSR032
Title: No Te Quiero Mas (I Don't Want
          You  More)
Artists: La Tribu
Format: Vinyl, 7", 45rpm
Genre: Latin Soul/Funk
Releasedate: April 08th 2022
Reviews: tba
A No Te Quiero Mas (I Don't Want You 
    More) [Original] 02:46

B No Te Quiero Mas (I Don't Want You 
    More) [Voodoocuts Edit] 03:48
Matasuna returns to Mexico again – this time to the musical epicenter Monterrey in the north of the country. The band La Tribu recorded there the song No Te Quiero Mas (I Don't Want You More), which was released on Polydor in 1971. The Latin soul joint is a gem among connoisseurs and it's difficult to get the original 45. Matasuna is therefore all the more pleased to be able to release the tune for the first time as an official reissue together with a fabulous edit by Voodoocuts.
The A-side features the original of the song. No Te Quiero Mas (I Don't Want You More) is a killer uptempo Latin soul & funk song. The drums, horns, organ and bass create a fast-paced foundation that is enriched by the vocals of singer Leopoldo 'Polo' Sánchez Labastida. A massive tune!
The B-side features an edit by Voodoocuts, who has already put his musical stamp on  various Matasuna releases. Here, too, he delivers another terrific edit that respectfully takes on the original material. His clever re-arrangement expands the song and his drums spice up the already great original. In particular, his solo drum breaks provide additional explosive moments and lead to a furious reinterpretation of the song.
Artist info
Monterrey is the capital of the northeastern Mexican state of Nuevo León. Along with Mexico City, Monterrey is one of the musical epicenters in Mexico. On the one hand, through Cumbia Tropical, the Mexican version of Cumbia. This music achieved great fame especially through the Sonideros: music lovers and DJs who played that music to the neighborhoods with their sound systems.
But Rock music also has a long history in this city. One of these bands was La Tribu, founded at the end of the 60s. Like many other rock groups of that time, they covered various songs of successful bands such as the Beatles, Chicago, Ides Of March and others. In 1969, their debut LP Great Britains Best Sellers was released: a compendium of cover versions of popular hits sung in Spanish.
In 1971 they recorded music with their own compositions and released an EP with three songs, where Por Perderte (For Losing You) became the band's most famous song. The success led them to be scheduled for the Festival Rock y Ruedas de Avándaro held in September 1971. It was a historic rock festival that took place in the spirit of Woodstock in front of a huge audience and went down in the musical annals in Mexico. The participation could have greatly influenced their musical path. But for unknown reasons their place was filled at the last minute by another band.
In 1972 they recorded new songs in order to regain the lost ground caused by their failure to participate at the Avándaro festival. However, the great success should remain denied to them. Also they never finished a second LP.
This was certainly due to the political situation that arose in the aftermath of the Avándaro Music Festival. Drug use, sex and nudity were denounced in media campaigns in  newspapers, radio and television and had far-reaching and harsh consequences. Rock music was censored in many places: rock clubs had to change their music program or even close down. So this music really disappeared or had to go underground.
On the other hand, the death of lead singer Leopoldo 'Polo' Sánchez Labastida in 1974 made it very difficult for the band to record new music, so the band practically disappeared from the scene.
It wasn't until the new millennium that the remaining living members got back together to sporadically perform their "hits" as well as other cover songs at events in the north of the republic – especially their hometown of Monterrey.