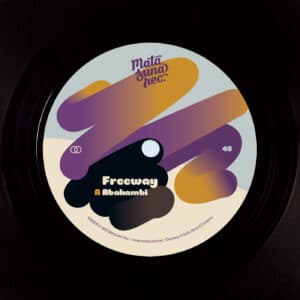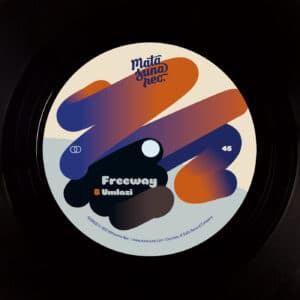 Label: Matasuna Records – MSR033
Title: Abahambi | Umlazi
Artists: Freeway
Format: Vinyl, 7", 45rpm
Genre: Afro, Funk, Jazz
Releasedate: June 24th 2022
Reviews: tba

A Abahambi 05:04

B Umlazi 04:50


Matasuna Records journey goes to South Africa for the first time to reissue two superb Afro-/Jazzfunk songs by the band Freeway. Released in 1975 on the South African label Flame, the album Abahambi "Balomhlaba" was rediscovered and re-released by the good folks of Black Pearl Records from Berlin in 2013. The LP immediately landed on Matasuna Records' album best list and was at the top of the reissue wish list. Now that goal has come true to officially release two songs on 45, making them available as 7inch vinyl singles for the first time. Transferred from the original master tapes and remastered to sound as good as never before. An essential release!
The title track of the album Abahambi composed by Sipho Gumede and also the album opener is also the A-side of the Matasuna release. The song immediately builds up an incredible groove with the first bar and offers an atmospherically dense, 5-minute funk firework. The musicians master their instruments to perfection: be it in the collective playing as well as in the polished solo passages, where they can fully demonstrate their skills. One of the tunes that could run endlessly without ever getting boring.
On the flip side, the song Umlazi composed by Enoch Mthalane is another testament to the sophistication of their arrangements & musicality. Although this song is much slower in tempo, it is in no way inferior to the A-side in intensity. Especially the piano generates a hypnotic groove, which is skillfully continued by the guitar. Another musical treat!
Artist info
The fact that the composers of the songs and musicians of the band are (or were) well-known greats of South African jazz music, but the album respectively the band name Freeway does not appear in any bio/discography is more than curious. Apparently it is considered proven that the band was founded by bass player Sipho Gumede.
Born in Durban (South Africa), Sipho Gumede learned to play the guitar autodidactically until he received his first introduction to jazz from jazz guitarist Cyril Magubane at the age of 16. He switched to bass and then got his first professional music job as a member of the Jazz Revellers band. In 1970 he went to Johannesburg where he met, worked with and toured with some great musicians of that time. He formed several bands with some of them such as Roots, Spirits Rejoice or Sakhile. Gumede also recorded collaborative pieces with other jazz legends before recording his first solo album in 1985. In the following years he was involved in tours of North America, Europe, as well as many African countries. In 2000, Sipho moved back to KwaZulu-Natal, where he taught music and performed for township youth. His artistic productivity did not stop there, however, and he produced a number of other albums. In total, he produced, recorded and contributed to more than 20 albums. He died in July 2004 after a short illness.