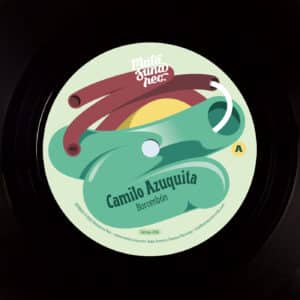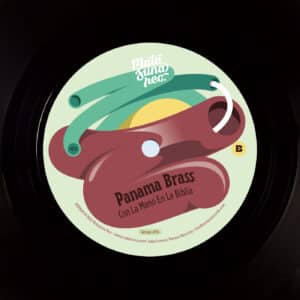 Label: Matasuna Records – MSR035
Title: Camilo Azuquita | Panama Brass
Artists: Borombon | Con La Mano En La Biblia
Format: Vinyl, 7", 45rpm
Genre: Latin, Boogaloo, Jazz,
Releasedate: December 16th 2022
Reviews: tba
A Borombon 02:53

B Con La Mano En La Biblia 02:48
Matasuna Records musical journey takes the listener this time to Panama – a country in Central America, which offers a rich and breath-taking variety of musical treasures. In a first reissue, two songs from the legendary Loyola Records label were selected, both released in 1969: one by Camilo Azuquita and one by the group Panama Brass. Two super-rare tunes that fetch crazy prices, if you're lucky enough to find a copy at all. Available for the first time as an official remastered reissue on 7inch vinyl – the song by Panama Brass even makes its 7inch premiere. Don't sleep on it!
The A-side features the killer boogaloo tune Borombon by Camilo Azuquita. Its take of the song composed by Javier Vasquez is undoubtedly the best version of this song. The striking piano, driving bass and rich horns are fueled by percussive accompaniment and especially by Azuquita's powerful voice. A terrific song that has also recently gained new notoriety in movies and series – such as Better Call Saul.
The B-side features the instrumental Latin Jazz/Guaracha tune Con La Mano En La Biblia by Panama Brass – an orchestra led by the excellent organist Cristobal Munoz Jr and consisting of Panama's best musicians. A no less energetic and furious song composed by G. Garcias. The musicians of the orchestra combine a great musicality and diversity in the song, delivering a special delicacy.
Artist info
Camilo Luis Argumédez is a singer and composer born in Colon (Panama) on February 18th 1945. He became world famous under his stage name Camilo Azuquita. He began his career at a young age, when he participated in various competitions organized by local radio stations. He left Panama for the first time for an engagement in Lima (Peru) – the prelude to countless trips.
After returning to Panama, another engagement in 1966 took him to Puerto Rico, where he also recorded music. Due to a tour he was involved in, he ended up in New York City where he made new & fruitful acquaintances with other artists that resulted in some more recordings.
In 1968 he returned again to Puerto Rico, where he joined a band to record an album. In the following years, tours and concerts followed, as well as an engagement in a club where he musically accompanied many stars of Latin American music.
Between 1972 and 1976 he spent four years in Los Angeles, where he performed in night clubs, recorded two albums and toured California with his own band Melao. In LA, through a brother of the Fania boss, he got a contract with Vaya Records, a subsidiary of the Fania label, which brought him back to New York City in 1976. There he joined the band Tipica'73 and their two following albums brought him much success.
A tour led him to Paris, where he met the journalist Pierre Goldman. A proposed project became reality two years later: Azuquita opened the first Parisian Salsa Club. As this became a complete success and the audience filled the club on each of the evenings, a first engagement of one month was extended to several years. In France, he performed at the world-famous Olympia Theater or played at the Old Bourget airport, opening for a live concert by reggae legend Bob Marley in front of 75,000 people. From France, he traveled throughout Europe, where the performances in front of European audiences brought him enormous prestige.
From 1985 to 1987, Azuquita y su Melao toured extensively in California, where he signed a 1-year contract at Club Candilejas in Hollywood in 1988. In the following decades, he recorded many more albums – in NYC, Cali (Colombia), France or Havana (Cuba), among others. In addition, he was still very active on tours, festivals and concerts around the globe. An extremely remarkable artist, whose activity has brought him to the top.
– – –
Panama Brass was an orchestra directed and orchestrated by the excellent organist Cristobal Munoz Jr. The orchestra consisted of one of the best musicians of Panama at that time. Munoz was an exclusive artist of Loyola Records at the time and was considered a promising or up-and-coming conductor. That this album could be realized at all had only been possible thanks to Hubert J. Pretto. Pretto, then Assistant Vice President & General Manager of Coca Cola Panama arranged the funds necessary for the realization of this album and supported the campaign to promote music culture in Panama. This album would remain the only one released by this group.