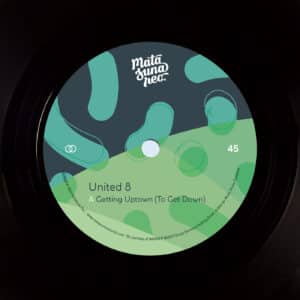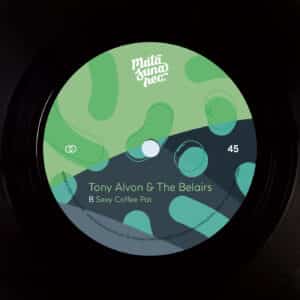 Label: Matasuna Records – MSR036
Title: United 8 | Tony Alvon & The Belairs
Artists: Getting Uptown (To Get Down) | Sexy Coffee Pot
Format: Vinyl, 7", 45rpm
Genre: Funk
Releasedate: March 17th 2023
Reviews: tba
A United 8 – Getting Uptown (To Get Down) 02:44

B Tony Alvon & The Belairs – Sexy Coffee Pot 02:26
After last year's musical excursions to Central & South America and South Africa, Berlin-based reissue label Matasuna Records is once again making a detour to the USA for its first release in 2023. Two funk milestones by United 8 and Tony Alvon & The Belairs have been selected from the archives of Atlantic Records. Apart from a release as part of a Funk45's box set by Warner in 2004, the songs have only appeared on various bootlegs in the past.
Matasuna Records is thrilled to finally release them as an officially licensed reissue with new mastering as a 7-inch vinyl single. This release is an absolute must-have for all funk enthusiasts, DJs and collectors.
Getting Uptown (To Get Down) by United 8 is a funk classic released on Atlantic Records in 1972. The musicians of United 8 created an infectious sound with a combination of horns, guitars, drums and bass. The drums drive the beat and give the track its distinctive rhythm, while the bass provides a powerful, pulsating foundation. The horns add a jazzy note, while the guitar adds a funky touch.
The result is an energetic, danceable sound that still sounds fresh and exciting today. The song is timeless and has lost none of its appeal. It's no wonder that it has been featured on many funk compilations since the 2000s.
Sexy Coffee Pot by Tony Alvon & The Belairs is an explosive and energetic funk joint from 1969 that immediately captivates the listener. The rhythm section lays down a steady, infectious groove, while the guitar and horns provide a funky, dynamic sound that complements each other perfectly.
It's no surprise that "Sexy Coffee Pot" has been sampled and covered by so many hip-hop artists over the years, such as Eric B. & Rakim, Cypress Hill or DJ Shadow, to name a few. B-boys and B-girls also appreciate the upbeat vibe of this song, which has become a staple on battles.