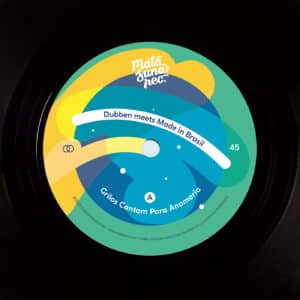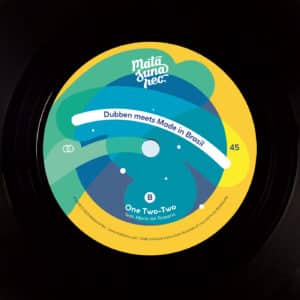 Label: Matasuna Records – MSR038
Title: Grilos Cantam Para Anamaria | One Two-Two
Artists: Dubben meets Made in Brasil
Format: Vinyl, 7", 45rpm
Genre: Brazil
Releasedate: August 25th 2023
Reviews: tba
A Dubben meets Made in Brasil – Grilos Cantam Para Anamaria 04:28

B Dubben meets Made in Brasil – One Two-Two 03:41
The latest release from Matasuna Records is the result of a transatlantic connection between the USA and Germany, whose common denominator is the love for Brazilian music. The journey started 17 years ago when the German musical duo Dubben got in touch with the late American musician Victor Meshkovsky. Almost two decades later, the Dubben interpretations of two songs that he once released with his band Made in Brasil on his own Nucleus label are now available! The second Dubben 7-inch on Matasuna features their great versions of the songs Grilos Cantam Para Anamaria and One Two-Two with a captivating vocal contribution by singer María del Rosario. The 7-inch includes an inlay with detailed liner notes by Dubben about the background of this release.
When Victor heard about Dubben's intention to reinterpret his version of the Marcos Valle classic Grilos Cantam Para Anamaria, he immediately loved the idea. This version is raw and funky, according to the original plan, with Christina Joy's original vocals isolated from the 1975 album. Bassist MC Scholze lifts the down-to-earth chord changes up into souljazz territories, while the typical ingredients of the Dubben sound – brass and percussion feeding tape delays and spring reverb chambers – happily groove along.
Originally a psyched-out proggy-ish Brasil track, Dubben takes Victor's composition One Two-Two, puts it in a box and sends it to Colombia. Of course, the parcel gets stuck on its way, much to the delight of the audience. A slow Cumbia burner with 100% organic ingredients: straight bass drum, fender bass, springy guitars, a detuned Italian organ and tons of improvised percussion,
performed and recorded by the band themselves. Finally, María del Rosario's vocal contribution, in both English and Spanish, is more than just the icing on the cake – it's the Latin soul of the track. ¡Un dos-dos!
Victor Meshkovsky (*1938 Shanghai; 2017 San Francisco) was an entrepreneur, painter, dancer, producer/✝ founder of Nucleus Records, and gifted drummer/percussionist who dedicated his life to the arts. While his role as drummer/percussionist for his friend, organ genius Walter Wanderley, might be not that well known, his self-produced and self-released albums with his band
Made In Brasil (not to be confused with the other "Made In Brasil") have become undisputed classics among music lovers, collectors and DJs. Thanks for the music, Victor!