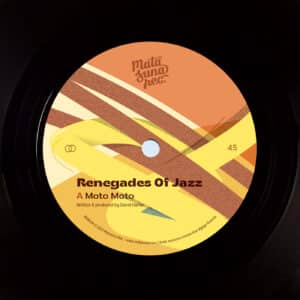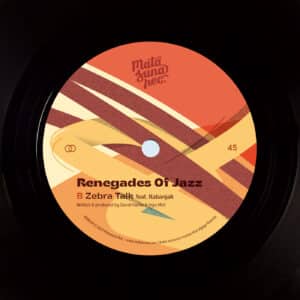 Label: Matasuna Records – MSR039
Title: Moto Moto | Zebra Talk feat. Kabanjak
Artists: Renegades Of Jazz
Format: Vinyl, 7", 45rpm
Genre: Afrofunk, Breaks
Releasedate: November 17th 2023
Reviews: tba
A Renegades Of Jazz – Moto Moto | Zebra Talk feat. Kabanjak 04:56

B Renegades Of Jazz – Moto Moto | Zebra Talk feat. Kabanjak 04:21
Matasuna Records proudly presents the exclusive re-release of Moto Moto and Zebra Talk by Renegades Of Jazz for the first time on a 45. Both tracks were originally released in 2016 on David Hanke's critically acclaimed Moyo Wangu album.
After its release, Moyo Wangu quickly became a very sought-after album on vinyl for collectors and DJs. On this third Renegades Of Jazz album, Hanke combines elements of Afrofunk with his love for breakbeats with club appeal. Having spent his early childhood in Arusha/Tanzania in the early 1980s, producing an Afrofunk album was on Hanke's list for a long time to reconnect with his time living there. With his love for African rhythms and club music, Hanke produced with Moyo Wangu a blend containing the best of both worlds.
Later, he continued his Afrofunk journey under his Dem Juju Poets alias and released his album Liberated Thoughts on Matasuna Records in 2017, which also quickly sold out.
Moto Moto is featured on the a-side of our new 45, an infectious opener which captures the hot, vital feeling of a crowded dance floor throughout an amazing night out. Catchy drums and frenzied percussions meet funk guitars, a deep grooving bassline, great horns and vibrant vocals.
Zebra Talk on the b-side is an exciting collaboration with producer and multi-instrumentalist Ingo Moell aka Kabanjak, also known for his projects like Deela and as one-half of Ancient Astronauts. Together they create a mesmerizing tapestry of sound that slowly builds, immersing the listener in the groove and captivating them.
Hanke and Moell continued working together on their new project The Maenads, exploring the depths of electronic club music.