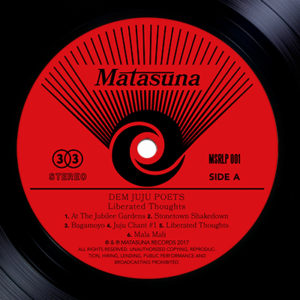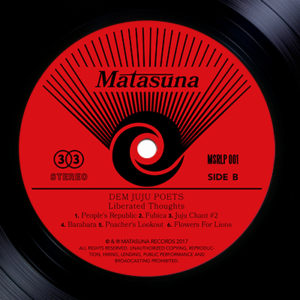 Label: Matasuna Records – MSRLP001
Title: Liberated Thoughts
Artists: Dem Juju Poets
Format: LP, CD & Digital
Genre: Afrofunk
Releasedate: 10.04.2017
Buy: Bandcamp
Feedback: click here

A
1. At The Jubilee Gardens
2. Stonetown Shakedown
3. Bagamoyo
4. Juju Chant #1
5. Liberated Thoughts
6. Mala Mali
B
1. People's Republic
2. Fubica
3. Juju Chant #2
4. Barabara
5. Poacher's Lookout
6. Flowers For Lions
Dem Juju Poets – Liberated Thoughts (MSRLP001)

What initially started as idea for a DJ-duo project quickly turned into a new production outlet for German producer David Hanke who is well known for his Northern Jazz, Funk and Afrofunk productions under various monikers ever since his first release back in 2008 of which the most recognized surely is his Renegades Of Jazz-alias.
After starting to fully embrace the Afrofunk vibe with his 2016-released Renegades Of Jazz album "Moyo Wangu" as well as two Dem Juju Poets singles in the same year it's now about time to release "Liberated Thoughts" – the longplay debut for Dem Juju Poets which is scheduled for April 2017.
Having spent an influential part of his childhood in Arusha, Tanzania and engrained the music of East Africa, his sound combines these influences with modern, more club-orientated electronic Afrofunk productions which defines the core sound of Dem Juju Poets.
With 'Liberated Thoughts' Hanke refines his Afrofunk vision for 2017 informed by his experience as a DJ in venues all over Europe which naturally led to a more floor functional production approach.
The opening title "At The Jubilee Gardens" serves a sweet equatorial coast sound combined with heavy drums and a seductive bassline followed by "Stonetown Shakedown" with a positive and enrgetic theme, chants and a busy brass section to set the dancefloor in motion.
"Bagamoyo" has a distinctive sound with it's electronics and a laid back character followed by "Juju Chant #1" which samples 'Mantis Revolver' by Seattle based trio 'Afrocop' whilst the title track "Liberated Thoughts" with it's raw but floor friendly combination of drums and vocals leads back to the center of the dancefloor.
The title "Mala Mali" describes the curse of money, whether you have much of it or even nothing. Fusing a cinematic, widescreen trumpet arrangement with vintage synths and rolling drums – a digression into slightly more psychedelic Afrofunk territories. Furthermore, "People's Republic" is built on a more Soul based idea with Jazz flutes and a vibrant horn section.
"Fubica", a peculiar theme for bumpy streets, provides broken beats, a mellow Jazz guitar and leaping sax followed by the second interlude "Juju Chant #2". The following "Barabara" was released as a prequel single to "Liberated Thoughts" and perfectly complements the albums flow..
With "Poacher's Lookout" the psychedelic touch is revisited again, this time creating a tense overall atmosphere, with additional hypnotic scats and some darker electronics. The album closes with the Dub-inspired slow groove of "Flowers For Lions", a beautiful ending for 'Liberated Thoughts'.
Reviews:
David Hanke is a man known for his wild and illustrious array of aliases. Through the years, he's appeared under the names Black Soyls, Madball Scientists, Mankoora and Rengades Of Jazz, among many others. Dem Juju Poets is his latest creation and, needless to say, it is perhaps his most accomplished and mature project to date. We don't want to take anything away from his previous productions but there's just something utterly fluid about this latest reincarnation. Matasuna is the new label to launch this new Liberated Thoughts LP, and we're sure this will go down a storm with all the jazz-funk crew, particularly the followers of Giles Peterson's DJ sound. Hanke's approach is playful and diverse, branching out into all sorts of jazzy vibrations that are tied together by funky, off-kilter outernational vibes. Plenty of breaks, bass bumps, and party moves for all sorts of vinyl playaz – oh boy, check those horns on the masterful "People's Republic"! – junorecords
As announced back in December when the Barabara seven inch came out, here at last is LP Liberated Thoughts which sees producer David Hanke provide a full-length debut in his current afro-funk incarnation Dem Juju Poets. Anyone familiar with any of Hanke's other incarnations – especially Renegades Of Jazz will know that this man doesn't mess around when it comes to production and Liberated Thoughts is no exception. Nor indeed does he mess around when it comes to the dancefloor, so while this release is not Hanke's first album length afro-set (that would be last Renegades Of Jazz album Moyu Wangu), it is if anything more consistently aimed at the dancefloor.
Highlights include Stonetown Shakedown, a fat uptempo bump all about the hypnotic bass which vies with chanking guitar and brass riffage, Bagamoyo, a looser horns-heavy groove horns completed by the occasional bit of piccolo, the title cut which provides swifter material again for the township b-boys and Fubica which imagines what The Meters might have sounded like had they hailed from northern Tanzanian city Arusha (where Hanke spent a portion of his childhood) instead of New Orleans. The DJ production origins of the project are also represented in the Afrocop-sampling Juju Chant #1 – a sweet little fifty second interlude that you wish had formed the basis of a track all on its own. If you were going to buy an afro-funk album this year – it should probably be this one. monkeyboxing