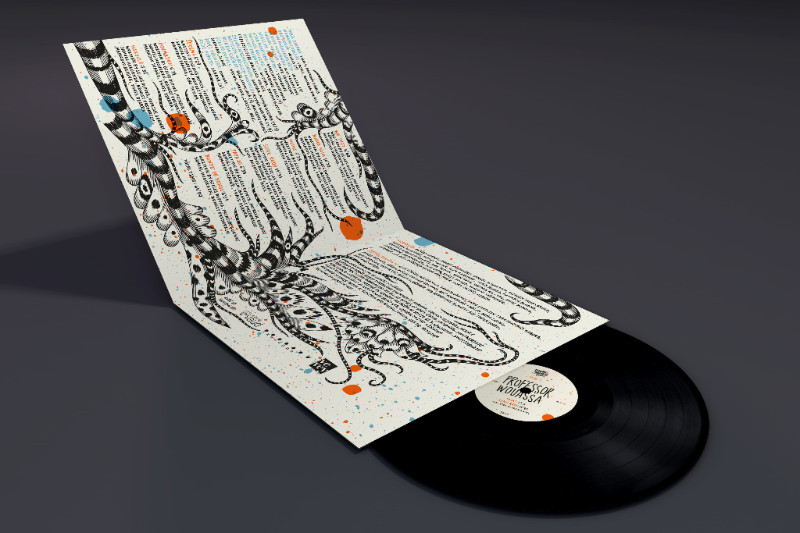 Label: Matasuna Records – MSRLP002
Title: Grow Yes Yes!
Artists: Professor Wouassa
Format: 2xLP, Digital
Genre: Afrobeat, Highlife, Funk, Jazz
Releasedate: 30.06.2017
Buy: Bandcamp
Reviews: here

A
1. Serema (feat. Ebo Taylor)
2. Doumadem
3. Kanoule
B
1. We Thit
2. Mame Yala
C
1. Touki
2. Sunu Reou (feat. Seun Anikulapo Kuti)
D
1. Papa Jo
2. Bande de Kokos
Professor Wouassa – Grow Yes Yes! (MSRLP002)

Music knows no boundaries and trespasses every geographic wall and culture. Rooted in Lausanne, Switzerland, Professor Wouassa is a living testimony of this –  a special blend that brings together the principal Swiss afrobeat players into one groovy pot, cooking uplifting and infectious afro music.
Born in 2003, the combo released their first album Dangerous Koko! early 2011 and soon picked up airplay in such diverse countries as the UK, Greece, Brazil, Canada, only to be reinforced by their incredible live delivery – and soon invited to be the opening act for Seun Kuti & Egypt 80 in the reputed Cully Jazz Festival. After a string of memorable concerts throughout a packed tour, 2015 marks the release of Grow Yes Yes!, mixed by none other than Malcolm Catto (The Heliocentrics, Mulatu Astatké, to name very few) and with featured appearances by afrobeat shining stars Seun Kuti and Ebo Taylor.
The album, about to be re-issued on Matasuna Records – house of the smouldering hot new project Dem Juju Poets – and for the very first time on vinyl, will surely add fuel to the fire across dancefloors everywhere.
Serema, its first track, laces Ebo Taylor's  smokey voice with an almost Cuban feel melody, preaching a message of love while Doumadem is a testament to the afro beat heritage, Thais Diarra's voice hovering beautifully over a landscape of heat-infused rhythm, cropped with precise horn stabs and arrangements that would make Antibalas proud.
We dare you to stand still while listening to We Thit. Seriously. If you aren´t compelled to dance to it, check your pulse. Surely something will be racing inside you.
Sunu Reou is a vintage, slow tempo afro groover and it is only fitting that it has Seun Kuti as its guest, proving, if proof were needed, that Professor Wouassa are a singular musical project that pays homage to and does not shy away from mixing afrobeat, high-life and ethio-jazz with contemporary funk. Yes Yes!
Reviews:
Lightening has definitely struck twice for the brilliant Matasuna Records… while still riding high from the release of the 'Liberated Thoughts' project earlier this year from the David Hanke alter-ego, Dem Juju Poets, the Swiss record label has expertly capitalised with their follow-up project by Professor Wouassa, 'Grow Yes Yes!'.
This actually marks the sophomore release for the Swiss-based supergroup of afrobeat and funk musicians – the first entitled 'Dangerous Koko!' and having been released in 2011.  'Grow Yes Yes!' – initially released in 2015 – has seen new life breathed into it from Matasuna with their reissue which sees the album released digitally but also on vinyl for the very first time.
Regardless of the format you choose though, 'Grow Yes Yes!' is an exciting and vibrant musical project that needs to be embraced.  Mixed by London's Malcolm Catto (the genius brainchild of The Heliocentrics and collaborator for a range of artists including Madlib, Quantic, DJ Shadow and Hannah Williams), stylistically, this project moves so far beyond "afrobeat" as a simple label… while some songs like 'We Thit' and 'Doumadem' are definitive funk floor-fillers, songs like 'Serema' (featuring Ebo Taylor) and 'Sunu Reou' are slower-paced but still ooze their own undeniable groove.  Frankly, this is an excellent album and one already ranking high amongst 2017 releases. blueingreenradio.com
An American or European Afrobeat band today is working in a crowded space: the genre has become so popular you need a gimmick or special talent to stand out from the crowd . Professor Wouassa, from Lausanne Switzerland, has the latter in spades. Currently lining up with eleven members, they've been together since 2003. This is their second album, recorded in 2013, self-released in 2015 and now picked up for vinyl release (in a beautiful package) by the new Matasuna label. Most of the players have jazz backgrounds and it shows: they're rhythmically in-the-pocket at all times, the horn arrangements are some of the most imaginative I've heard in this genre, and they handle complex passages such as the breakdown in the last three minutes of track 5 (essentially a live dub mix) like they're routine. This is not a band that has to play fast to get you excited: they're at their best at vintage Afrobeat tempos as on the outstanding 2, if you want something faster try 9 or especially 4. Another good sign: the longest tracks (5 and 7, the latter featuring Seun Kuti) are among the best. Top-shelf Afrobeat, competitive with the world's best. globalagogo.com